Daytona Beach's Best Playground Safety Surfacing Installation Services

The most important move into creating a recreational area is by ensuring that you use safety surfacing with outstanding features. A playground surfacing has to provide a range of beneficial varieties i.e., durability, flexibility, safety, accessibility, and even visual aesthetics. Daytona Beach Safety Surfacing offers a variety of surfacing solutions for recreational spaces, sports venues, daycares, school playgrounds, etc.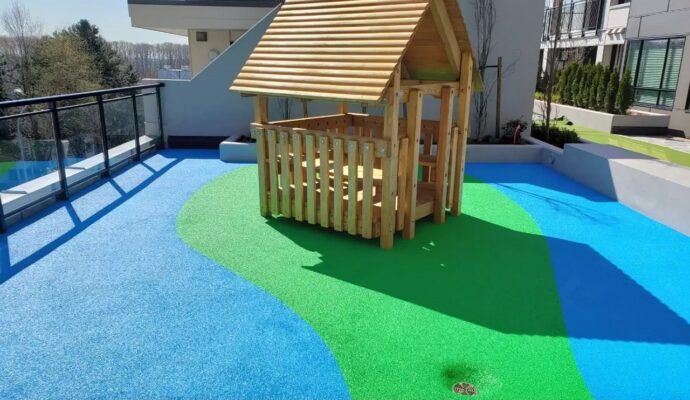 Which is the Best Playground Surfacing?
When it comes to choosing a reliable playground surface and its equipment, the most impactful factor is safety. The surface has to provide a soft cushioning surface so as to prevent serious injuries. Always choose a surface that will create a safe haven for your children and one that is suitable for that surface. There are a number of choices to pick from, all depending on the functionality of your play area. As you plan on choosing the best Playground Safety Surfacing, consider the following;
The budget – put in mind not just the price of the surfacing material but the installation and maintenance cost.
The targeted age group – if you want an all-around playground area, opt for a unitary rubber surface. It is accessible even to those with mobility conditions. Surfacing materials with loose-fill particles can be a challenge to the disabled.
Maintenance plan – though the upfront price is costly, unitary safety surfaces are the best because they require little maintenance. For the other playground surfaces, you will have to hire a crew who would be doing the cleaning.
Playground equipment – the type of equipment on your playground determines what type of safety surface you will install.
What are the Safety Surfacing Options?
---
There are a number of Playground Safety Surfacing options available in the market. All you need to know is what they offer and whether they are suitable for your playgrounds or not.
This is the best playground surfacing option; it is easily accessible and durable. This rubber is poured on site and can be done in different thickness levels. This is done so as to meet the varying impact attenuation requirements. It is available in a wide variety of color options that can be mixed or blended. Due to its flexible rubber capabilities, poured-in-place rubber can be easily customized to fit any playground theme.
Once installed, rubber tiles provide a uniform smooth surface.  They are mostly installed indoors especially in spaces where high energy activities are a norm like the gym. Daytona Beach Safety Surfacing comes in a variety of colors and can be cut to attain your desired shape. Rubber tiles are easy to clean and maintain and are exceptionally durable and are easy to fix.
It is mostly referred to as the 'green' surfacing option because it is made from clean and recycled rubber. Rubber mulch is durable, does not decompose, and does not allow the growth of microorganisms. This rubber surfacing also offers the best shock absorption properties. No matter your budget, our team offers a wide selection of suitable surfacing that will make your playground safe.
Playgrounds are no doubt an essential part of a child's life, but one must ensure that they're completely safe for kids. And this is where playground safety surfacing comes in. Safety surfacing is a cushion-like surface and made up of a shock-absorbing material that provides safe landing to kids who fall over the ground. Playground surfacing material is made up of recycled rubber or shredded pieces of rubber, which makes it durable and soft, unlike hard or rigid surfaces like asphalt, gravel, or concrete. The hard or rigid surfaces increase the risk of serious injuries, which may lead to dangerous consequences. So one must ensure that they provide ground cushioning.
The prime reason behind kids getting injured is the hard ground. So, by providing playground safety surfacing, one can reduce the risk of being hurt. Daytona Beach Safety Surfacing assures you that we use the best material available to avoid any inconvenience to our customers. Our company has installed safety surfacing materials for several playgrounds. So, we can help you too. Find what materials are suited for playground surfacing below.
Other Safety Materials
---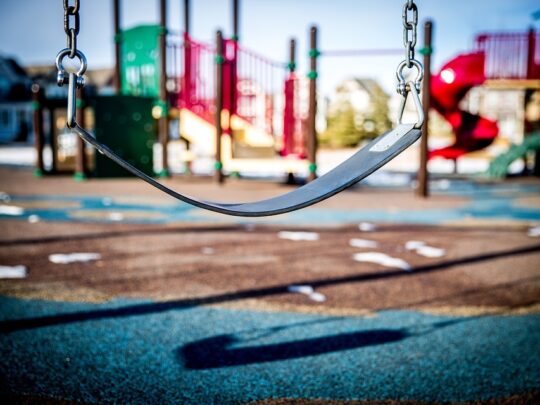 Why choose us?
Daytona Beach Safety Surfacing is a reputed company all over the country. We work with full dedication and always try to provide our finest work. We are a certified as well as a licensed company. We guarantee you that we provide you with our best deals and services. Our professionals use branded and high-quality materials because we can't compromise our customer's safety. We always work according to our customer's instructions. We don't even let them do anything during installation and always take care of their safety during installation.
We offer different types of playground surfacing materials for you to choose from according to your needs and requirements. Our experts will always help you negotiate which type of surfacing will suit your place. So, if you have any queries, please contact us on our helpline number.
Below is our list of additional services: