Best EPDM Rubber Installation Services in Daytona Beach, FL

The EPDM rubber surfacing is an application that uses synthetic rubber and is widely used for playgrounds, pathways, golf courses, and walkways. EPDM stands for Ethylene Propylene Diene Monomer. Here, ethylene, propylene, and diene mix together to give an end product which is EPDM rubber. And this mixture of chemicals provides EPDM rubber an outstanding ability to resist UV rays.
Daytona Beach Safety Surfacing is one of the famous companies in America and is well known for delivering top-quality services to our customers. Our company proposes to you with best deals and safety surfacing services at affordable prices. Our company comprises one of the best teams of professionals and experienced workers in America to provide you with the best results.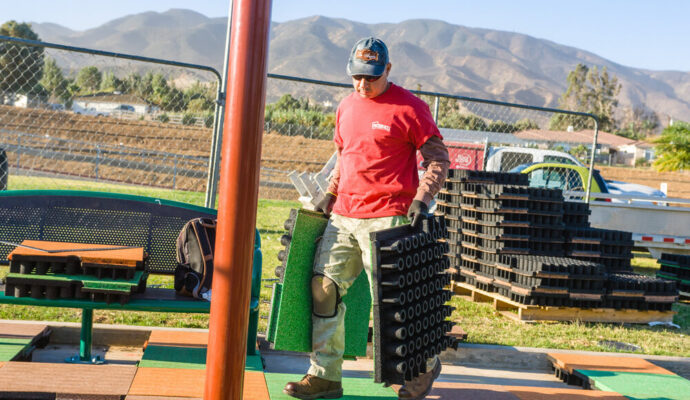 What do you mean by EPDM Rubber Surfacing?
EPDM Rubber is composed of ethylene, propylene, and diene, out of which ethylene content usually ranges between 45%-75%. The diene is present in a very small proportion in this composition, but it provides a remarkable amount of flexibility, permeability, durability, and slip-resistant properties. This can also be used in pool decks, tank liners because of its resistance to water.
EPDM rubber can be installed on concrete, metal, stone, or all solid and non -granular surfaces. EPDM rubber is odorless after installation and hardens between 24 hours to 72 hours after its installation. It has a massive amount of durability as it can last up to 30 years under normal temperatures and up to 20 years under extreme temperatures.
EPDM rubber is tear-resistant as it can bear heavy foot traffic and is highly resilient to wear and tear, so it doesn't get damaged over the years. It has high tensile strength and is soft and provides a cushion-like surface underfoot for comfortable walking and playing. This is safe for children playing as if they fall unintentionally on the rubber surface; the springy and soft surface will protect them from any serious injuries.
Why choose EPDM Rubber Surfacing?
EPDM Rubber is versatile and is primarily used in construction, automotive, and industrial applications. It's also used in window and door seals, gaskets, tubing, washers, and many more.

It is available in various ranges of colors and designs. Our company provides many color combinations and multiple design patterns and textures, which will give an aesthetic appearance and increase property value.

EPDM Rubber also acts as a shock-absorbent, so it can be used in gym areas and is ideal for sports centers. This can absorb shocks caused due to high-intensity movements caused on the ground.

This is lighter as compared to other rubbers, which further increases its life. It has a number of beneficial properties like this lightweight, cushion-like surface, acoustic insulation, and durability.

EPDM rubber is safe for children or persons with sensitive skin as this is made up of 100 % recycled rubber and is also recyclable. It is free from harmful chemicals and is environmentally friendly.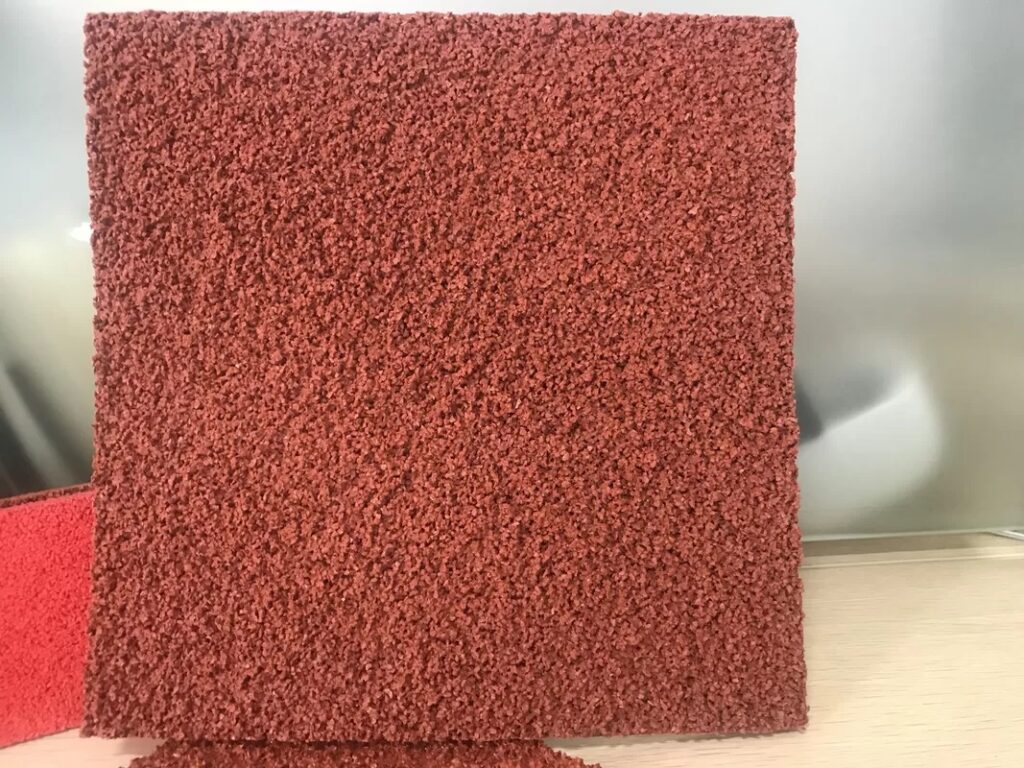 It's a one-time thing; the initial investment may seem high but will pay off in future years. This is one of the most cost-effective surfacing options as it requires low maintenance with many advantages. It is tough, slip-resistant, safe, flexible, waterproof, crack-resistant, weather-resistant, and many more.

EPDM Rubber is the most demanded material nowadays because of its high density and flexibility. This is UV rays and ozone resistant and performs well in high as well as in low temperatures.

EPDM Rubber is also resistant to corrosion, flowing, and distortion. It works well with hydraulic fluids, ketones, and alkalis. This is mold resistant which implies that it prevents the growth of microbes, molds, or any harmful creatures.
Difference between EPDM rubber and Natural rubber?
Natural Rubber
Natural rubber is produced from plants or trees and especially those which belong to Havea and Ficus species. It consists of large molecules made up of small molecules. It is classified as polymers. It can be stretched many times without being damaged, and this is highly resistant to corrosive substances. Natural rubber is also referred to as gum, Indian rubber, and caoutchouc.
Fields of applications 
Tires of race cars, buses, and aircrafts

Drive couplings

Foam mattresses

Battery boxes

Rubber bands

Medical tubes
Properties:
Natural rubber can resist temperature 446-degree F or 518-degree F.

It is less resistant to ozone and heat as compared to EPDM rubber and can cracks if exposed for a long time.

It has high tensile strength and can resist wear and tear. 

This has less flexibility than EPDM rubber but has high resistance towards flame and cold.

This doesn't shrink at high temperatures and has a high elongation capacity of up to 800 % for vacuum membranes.

It is incompatible with non-polar solvents, fuel, and oil.

Natural rubber is resilient towards water and chemicals too.
EPDM Rubber
EPDM Rubber is made up of two main components ethylene and propylene. It is a form of synthetic rubber and is 100% recycled. This is affordable and is highly durable and also comes with a minimum ten years warranty. EPDM Rubber is also known as wet pour and is available in a wide range of colors, giving a stunning look.
Fields of applications
Window seals and door seals

Gaskets

Floor surfacing

Radiators and coolers

Water tank liners

Pond liners

Hydraulic brake systems
Properties:
EPDM Rubber can resist up to 266-degree F.

This is highly resistant to heat, ozone, and UV rays, unlike natural rubber.

EPDM rubber is compatible with hydraulic fluids, alkalis, and ketones.

It performs well in any type of weather and can resist hot as well as cold temperatures.

This has high tensile strength and is flexible too. It is soft and springy, which makes it safe for children.

Its tensile strength lies between 500- 2500psi, and its elongation capacity lies between 600%-800%.
Why trust Daytona Beach Safety Surfacing?
We have the best employees who are educated and well versed in their work. Our employees are hardworking and focused on their work to come out with their best. Our company always works according to our customer's conditions and needs. We don't believe in guesswork. Our experts work with full precision and accuracy.
Daytona Beach Safety Surfacing always uses chemical-free and best-quality products to avoid any inconvenience to our customers. We work under a team of experienced professionals and offer a full guarantee on our products. So, contact us now to book your quotes.
Below is our list of additional services: